17th November, 1899, Bhai Sahib brought out the first issue of the weekly Khalsa Samachar, which besides Panthic news, contained valuable information about the tenets of the Sikh faith, elucidation of Gurbani, and imparting teaching of the faith in a big way. He continued this paper till the last breath of his life and it was apparent that his pen brought in the community such an awakening and created awareness which he had imagined at the time of launching this laudable endeavour. He always suffered financial loss in bringing out this paper but he expressed his joy at the success of the paper and suffered the financial loss willingly and continued the paper in high spirits. This paper has now completed 116 years of its life. This weekly newspaper is treading the path shown by Bhai Vir Singh Ji and serving the Panth.

Bhai Sahib edited it for the first fourteen or fifteen years. In 1914 Bhai Sewa Singh joined him and he passed on this responsibility to him. But he kept a watchful eye on the fulfillment of the aims and objects with which the paper had been started. When Bhai Sewa Singh got into ill health in 1944 and passed away, he entrusted this service to the writer of these words which he rendered for twenty nine years under his guidance to the best of his ability. From July 1973, Sardar S.S. Amol undertook this responsibility for about three years and then S. Manjit Singh took over. The paper was originally published from Amritsar. In December 1990, this weekly newspaper was shifted to Delhi and published by Bhai Vir Singh Sahitya Sadan under the editorship of Dr.J.S.Neki and Dr.Mohinder Singh. May this paper continue to serve the Panth as envisioned by Bhai Sahib!

Subscribe Now:-
India:
Yearly subscription Rs. 250/-,
Life Membership in India Rs. 2,500/-
Abroad:
Yearly subscription Rs. 2,500/-,
Life Membership Rs. 25,000/-
You can make payment through cheque/Bank Draft drawn in favour
of Khalsa Samachar Life Membership.
You can also make the payment through ECS to our following Bank Account :-
PUNJAB & SIND BANK
BRANCH: GOLE MARKET, NEW DELHI-110001

KHALSA SAMACHAR LIFE MEMBERSHIP
SAVING BANK ACCOUNT NO. : 07621000000163
IFSC Code : PSIB0000762
MICR Code : 110023052
Email # info@bvsss.org

So soon as thou didst love me,
So soon as thou
madest me thine,
So soon as thou madest
me the bee of the lotus
which is thy feet, Then, then,
without a word to me,
Thou didst depart;
And I knew nothing,
my love! Oh,
I knew nothing then!
- Bhai Vir Singh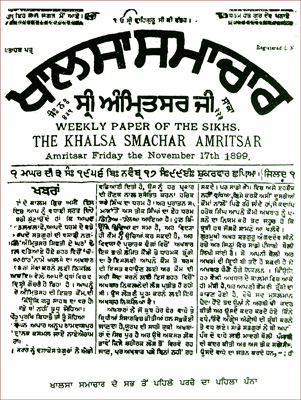 1st Page from 1st Issue of the Khalsa Samachar,
November 17th, 1899